J.B. Hunt Transport Services Inc. recently launched a new transload service to assist shippers in the New York metro area experiencing nationwide congestion. 
 The new service will be managed through a recently expanded facility in Jersey City, New Jersey, that will provide port drayage, transloading and inland linehaul solutions, according to a statement from the company.  The facility is the first of its kind for the company and opens at a key time with the holiday season fast approaching. 
"Our new transloading service will help customers accelerate freight movement and improve container fluidity," said Shelley Simpson, chief commercial officer and executive vice president of people and human resources at J.B. Hunt. 
The new transloading service provides a one-stop source for quickly transferring ocean freight into equipment for domestic transport. Shippers can leverage J.B. Hunt Intermodal and J.B. Hunt Highway Services to move freight outbound from the facility, providing line haul capacity to anywhere in the United States.
J.B. Hunt said it operates one of the largest company-owned fleets in North America, with more than 100,000 intermodal containers, 18,500 tractors and 36,000 trailers. The company said its technology platform J.B. Hunt 360° "is an industry leader in digital freight matching and provides shippers with access to nearly one million trucks through qualified third-party carriers across the country." 
The company said it expanded its use of the facility in October to utilize a 25,000 square-foot area to establish the new service offering. The facility consists of ample on-site parking, offers 24/7 service and is located near all major railroads and port terminals in the New York area.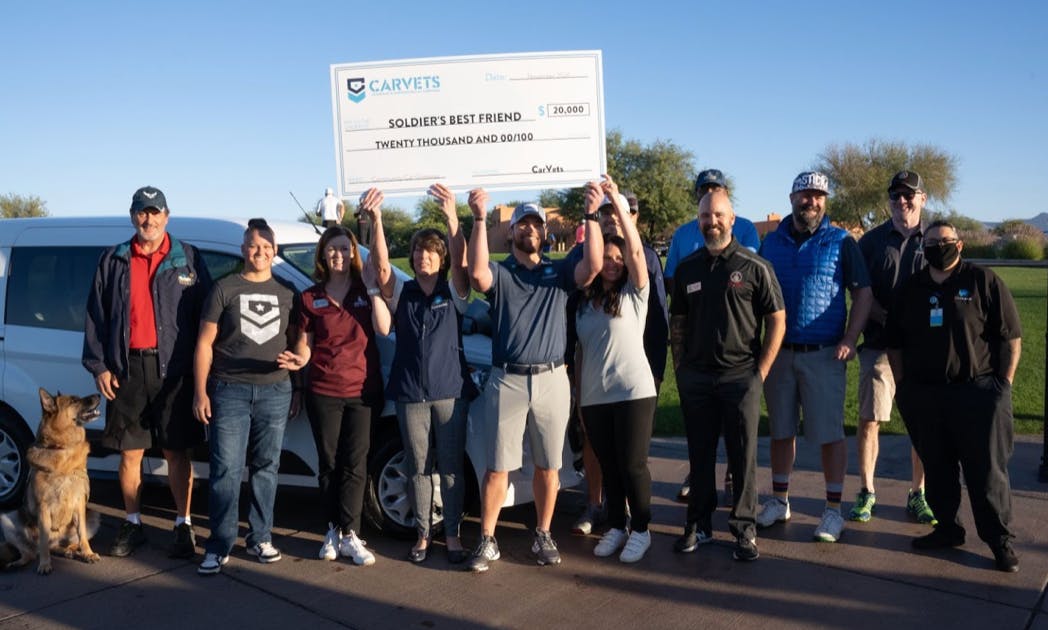 Carvana donates Transit van to Soldier's Best Friend; wraps stingers in veterans themes
Carvana's CarVets community recently donated a 2017 Ford Transit to Soldier's Best Friend, an organization dedicated to providing U.S. military veterans living with combat-related PTSD or TBI with service or therapeutic companion dogs. Most of the dogs are rescued from local shelters and at no cost to the veteran, they are paired up together to build a trusting relationship that saves two lives at once. 
However, helping ensure Soldier's Best Friend can keep delivering on their mission is only part of Carvana's focus on former military servicemen and women and their families. Recently, Carvana unveiled a fleet of custom-wrapped vehicle stingers, all sporting one-of-a-kind decals that demonstrate Carvana's support of veterans. 
Additionally, this year the company won the ESGR's Pro Patria Award, demonstrating our support to Guard and Reserve employees by adopting personnel policies that make it easier for employees to participate in the National Guard and Reserve. 
Two sentenced in Alabama HHG scheme
On Oct. 27, in the U.S. District Court for the Southern District of Alabama, Sherman Smith and Kenneth Smith were sentenced for their roles in a household goods moving scheme.
According to the Department of Transportation's Office of Inspector General, in July, Sherman Smith pleaded guilty to two counts of interstate transportation of stolen property, and Kenneth Smith pleaded guilty to misprision of a felony.
The Smiths, along with two other defendants, operated under various business names purporting to be household goods movers, but lacked authority under the Federal Motor Carrier Safety Administration to engage in the transport of household goods, OIG said.
The defendants, under the pretense of providing authorized interstate moving services, allegedly took possession of their victims' household goods and never delivered them to the rightful owners.
Sherman Smith was sentenced to time served, three years of supervised release, $35,396.50 in restitution, and a $200 special assessment. On Oct. 29, co-conspirator Kenneth Smith was sentenced to time served, one year of supervised release, and a $100 special assessment.
Farm video producers honored by Howes
Howes Products recently announced the induction of the Peterson Farm Brothers of Assaria, Kansas into the Howes Hall of Fame. The first farm and agricultural inductee of the hall, the brothers are known for YouTube videos about farming. 
The Peterson Farm Brothers, Greg (30), Nathan (28), and Kendal (25), produce humorous and educational videos. Set on 2,500 acres, their fifth-generation family farm itself is a testament to their dedication and success, said a statement from Howes.
"When we initially came across the captivating work that the Peterson Farm Brothers were doing, we were blown away by their creativity in representing an underappreciated industry," said Erika Howes, VP of Business Development at Howes Products. "Their ingenuity in delivering valuable, educational content really resonated with us." 
"We were honored to be inducted into the Howes Hall of Fame," stated Nathan Peterson. "One thing we deeply appreciate is family. We thought it was pretty neat that like our farm, Howes Products is a fifth-generation, family-owned and operated company."
The Howes Hall of Fame serves as a platform to acknowledge and thank all the great work that has, and does, go into the trucking and agricultural industries. It can be viewed at www.howesproducts.com/HOF.